How to Setup a Home Gym
Aug 31, 2020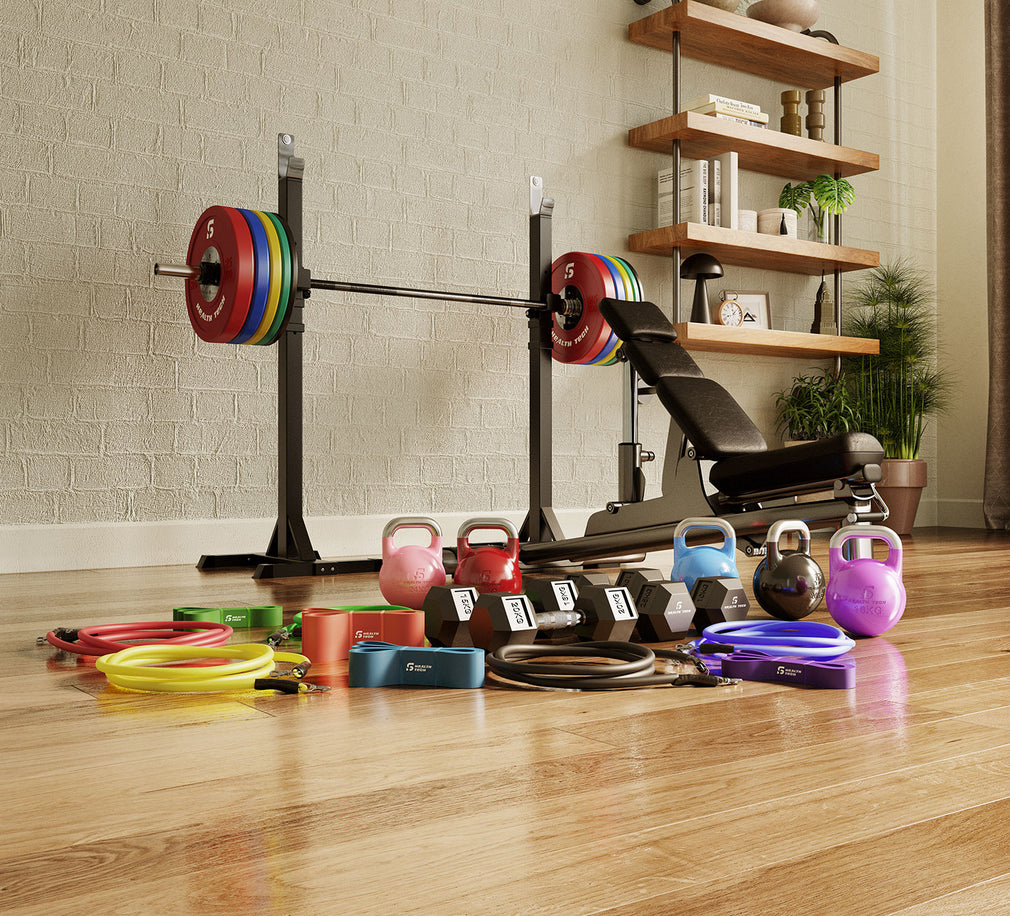 Let's get started
You may have a ton of reasons for not going to the gym – maybe it's too much effort, maybe you don't get enough time for a proper workout, maybe the music is bad, maybe you are apprehensive about touching sweaty equipment, maybe you have your own inhibitions, or maybe you fear too much of social closeness.
Whatever your reason for not going to the gym may be, setting up a home gym can be the solution.
Creating your own private gym at home allows you to focus on your fitness goals — rather than being held back by your fears and inhibitions. In this cover-all article, we'll talk about why you should invest in a home gym, how you should plan for it, what equipment you need, how to design the gym, how to put it all together and more.
Let's get started
Reasons Why Home Gym is Right for You
Reason 1

Workout at any time

You can choose to workout at your own time and pace, instead of setting time aside to make a trip to the gym.

Reason 2

Have your own space

When you are in your home gym, you are in a judgment-free zone. You can wear anything and work out the way you want without anyone watching you.

Reason 3

Customise the gym as you want

Because gyms cater to a wide variety of customers, you may not find the right range of equipment needed to meet your fitness goals. You can customise a home gym perfectly according to your needs and goals.

Reason 4

Never have to wait for our turn

Waiting for someone to finish using the equipment is a mood killer. In your own home gym, you are the only customer. You can use any equipment at any time.

Reason 5

Save time and workout for long

Going to the gym requires you to keep aside time for getting ready – and the commute too. This time can be saved when you set a home gym. You can use this saved time to work extra in your home gym.

Reason 6

Save on expensive gym memberships

Certainly, there are some upfront costs involved in setting up a home gym, especially in terms of equipment. But these are one-off purchases equivalent to a gym membership.
Let's get your home gym built. We can hep you figure out exactly what you need and how to design your space.
How to Plan For Your Home Gym:
Step-by-Step Guide to Set Up Home Gym
Step 1

Determine Your Goals
Your goals will determine what equipment you need for your home gym. With this knowledge in mind, you can budget your money and space better. For example, if you prefer cardio, then you might want to invest in a cardio machines and use most of the space for carrying out cardio workout routines. If you prefer weight lifting and building muscle, you might allow most of the space for weightlifting gear.
To figure out your goals, ask yourself some key questions:
What sort of workout (exercise and activities) do you prefer?

How do you want to look and feel?

What do you want out of your workouts? Weight loss, cardio fitness, improved strength, muscle increase, or improved performance?
Most people start with the fitness journey with two fitness goals in mind:
Which category do you belong to? This, and your other health and fitness goals, will help decide what sort of exercises and what sort of equipment you will need to achieve the results you want.

Figure out where you're going to set up the gym.
Do you have a whole spare room? Or just a corner?

Do you want the gym to be in the basement or a garage?
Once you know where you are going to set up your gym, the next step is to figure out how to use the space optimally. Don't worry if you have very little space for your gym. Just as there's equipment for every budget, there's equipment for any sized space as well.
The new-age fitness equipment is designed to be compact and multipurpose. A multi-gym equipment two top benefits:
Step 3

Figure out your Budget
It's a myth that only the rich can afford a home gym. Home gyms can start cheap; you just have to start and allow it to evolve over time.
So, what should be the budget for your home gym? The budget will greatly depend on what kind of equipment you need. And the equipment you need in your gym greatly depends on what your fitness goals are.
If your workout demands heavyweights and a rack, it's going to be more expensive than a workout that relies more on floor exercises involving medicine balls, yet less expensive if you are more interested in complicated cardio machines.
ProTip Do some quick online research to get an idea of the costs associated with different types of gym equipment. If you are on a tight budget, consider buying second-hand equipment.
Step 4

Stock your Home Gym
This is the fun part – choosing what equipment you want in your personal gym! Remember, your choice of equipment should help you reach your fitness goals, above all else. Choosing a skipping rope if you're not remotely interested in cardio doesn't serve the purpose.
Also, you don't need different pieces of equipment to meet your goals. And you certainly don't have to buy them all at once. Remember, the best home gyms evolve over time; so, start with just the most important ones and then build on it.
You may find these tips useful while buying equipment for your home gym:
Choose a versatile piece of equipment that can be used for multiple exercises.

Look for durable equipment with long warranties that will stand the test of time.

If you are not on a tight budget and if the aesthetic of the gym is a priority to you, you might want to consider the look and feel of your equipment – the colour scheme, and the general vibe.
The basic equipment to start off your gym can be a bench and barbell for strength training, a yoga mat and medicine ball for functional fitness or just a jump/skipping rope to improve your cardio fitness. As your workout routine evolves, so will your gym. You might find yourself adding more weights or different machines to meet your evolved fitness goals.
Having said that, take a look at some of the essential pieces of equipment you'll need in your home gym.
NoteRemember, you don't have to buy everything for your home gym all at once. Start with a few key pieces and then gradually build it up from there.
Cardio Training Equipment
Cardio training equipment is any equipment that can help you sustain smooth and continuous movement at an elevated heart rate for at least 20 minutes.
Treadmills can give you that serious burn. If you have the budget and space, don't overlook it. If you are tight on cash and space, a jump rope is good enough. Use a speed rope or weighted jump rope to crank up the intensity.
Other considerations:
Strength Training Equipment
Strength Training (also resistance training) is the use of resistance to muscle contraction to build skeletal muscle strength, anaerobic endurance, and size which can be achieved using the following methods:
HIIT (High-Intensity Interval Training)

The best part about HIIT workouts (High-Intensity Interval Training) is that they don't require a ton of equipment and they can be done from anywhere. HIIT workouts alternate between intense, quick bursts of cardio exercises followed by short periods of recovery.

Functional Fitness Training

Functional Fitness training is aimed at providing overall strength and balance to do our daily physical tasks easily. This could be as simple as reducing the strain you feel when carrying the grocery bags to your car or giving you the energy to play with your children longer.

CrossFit Training

CrossFit training prepares your body for challenges. The workouts are broken into timed events that pushes your body to constantly adapt to new scenarios, thus boosting your fitness levels.
The equipment used for this group of training (HIIT, functional fitness, and CrossFit) focuses on building a body capable of doing real-life activities. Some basic equipment, which you can pick and choose depending on your fitness goals and your budget are:
Recovery Equipment
Whether you are all for cardio or all for strength, recovery is important. That's why your home gym needs to have recovery equipment.
Foam rollers are versatile recovery equipment. You can use them for reducing muscle fatigue and soreness, thus speeding up your recovery process and enhancing your overall muscular performance.
Other considerations:
Step 5

Create a Storage Plan
If you want to pack a ton of equipment in a small space, storage is key.
Here are a few tips on how to store your gym equipment at home:
Pick up a storage container for minimalist workout routines. This container can hold your yoga mat, resistance bands, sliders, jump rope, and other portable pieces. The best part of this storage container is that you can easily slide it under your bed or couch.
Turn an empty wall into a storage solution. Put up a hanging organiser. Hang all your bands to keep them tangle-free.
If the set of your dumbbells come with a rack, it's great. Otherwise, you may have to invest in a compact weight rack, which can hold at least five sets of dumbbells, up to 200 Ibs. Place it in one corner of your home gym.
Step 6

Design Your Home Gym
Have a vision for your gym. Think about how you can make the space that gets you pumped up to work out. Consider colour schemes, posters, lighting, mirrors, music, and progression photos to create that vibe.
If you're not sure where to start, look for inspiration online. Check out social media sites like Instagram. Try searching with the help of hashtags and get really cool home gym ideas.
A few tips to get you started:
Based on your fitness level, needs and requirements, we can help you build or upgrade your home gym - from design to planning to product selection to delivery & installation.
Final Thoughts
A home gym is an investment in your long-term health. By setting it up, you are enabling yourself to get closer to your fitness goals. Just reading this guide and thinking about the possibilities is a step towards prioritising your health and fitness.
Whatever your reason for not going to the gym may be, setting up a home gym can be the solution.
Finally, keep in mind that a home gym gives back only what you put in. All the time, money and effort will go waste if you don't use your home gym. So get into it and get rewarded with good health and a fit body!
Recent Blog
Kettlebell vs Dumbbell is a common query amongst fitness enthusiasts. Read our in-depth guide to help you choose depending on the types of exercises & your fitness needs.

Here's what you should know about the health benefits of push-ups and how to make the most of them, whether you are a beginner or an expert.

Whether you have 10 minutes or 30, here are 6 realistic workout regimes for busy professionals. So, get moving for improved health and productivity, stat!